News
Information about the Chapter
Forever LSU
Lagniappe
This page is under construction.
NOW UNTIL AUGUST 26: Kickoff Super Fan Experience Raffle
ONLY $10 per Chance - A One of a Kind Experience for the LSU Kickoff Game Weekend You Can't Buy Anywhere!
If you are going to the LSU-North Carolina game and want to have a whole weekend of unique experiences to make you a Super Fan, get your chances now to win this special package. Check it out and buy your chance(s) online now. Anyone can enter-
ORDER HERE.
"Ultimate Tiger Fan Experience" Auction Bidding Ends Aug. 11
Are YOU the Ultimate Tiger Fan?
LSU ATLANTA AUCTIONS - Alex Box Dedication First Pitch Ball
Own a Unique Piece of LSU Baseball History!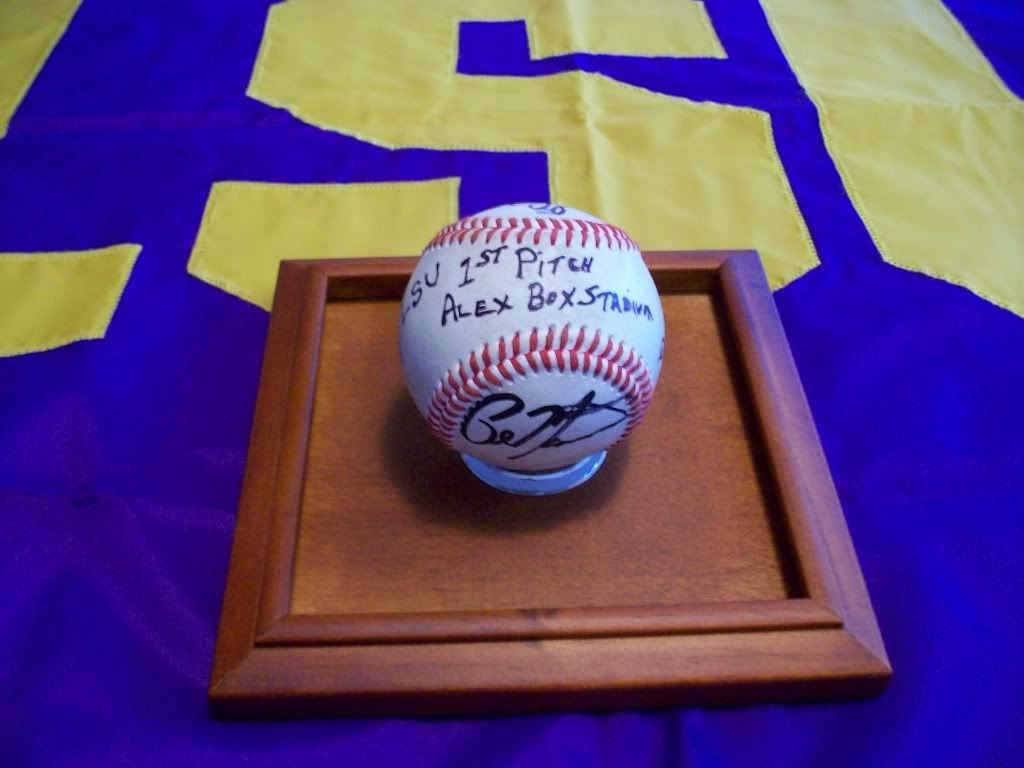 Academic Recruiting Reception in ATL March 17 - RSVP Now
Georgia is one of the more active states for sending great students to LSU. To underscore this fact, LSU's Office of Undergraduate Admissions and Student Aid is coming to Atlanta to host an exclusive reception where top academic students from the metro area can meet various representatives from LSU's academic colleges and departments. The recruiting folks in Baton Rouge would love to have some Atlanta alumni on hand to mingle and share stories and encouragement with the student candidates.
An Evening With Louisiana State University will take place Wednesday, March 17 from 6:00 – 8:00 p.m. at Nelson SE Operating Company, 1349 West Peachtree Street NE, Suite 1300.
LSU requests that you make an RSVP as space is somewhat limited. For additional information and registration, email Christopher B Henry atchenry@lsu.edu.
Newsletter 2-25: Recruiting Reception, LSU Baseball
February 25, 2010
In This Edition:


Academic Recruiting Reception in Atlanta March 17th: RSVP Now


LSU Baseball Wallpaper and a VERY Special Auction Item Coming


Rescheduled Mardi Gras event in Roswell this Saturday
LSU Atlanta Board Member Receives LSU Alumni Assn. Service Award
Each year the LSU Alumni Association brings together its biggest donors and most active volunteers for its Accolades Banquet held at the Lod Cook Alumni Center. They also host a chapter development workshop where alumni can share information and experiences that strengthen LSU's presence around the country with its 125 chapters.
UGA fans @ Buffalo Wild Wings Alpharetta
I want to say how PROUD I was to see SO much purple & gold. People wonder why there's dislike for UGA - to come to someone else's bar & be so blatantly disrespectful shows how much class you got. Once we knew we had game - the Tiger fans came full force. OH MY - HOW QUIET THEY GOT!!!!!!GEAUX TIGERS!!!!!!!!!!!!