LSU Atlanta's CRAWFISH SEASON GUIDE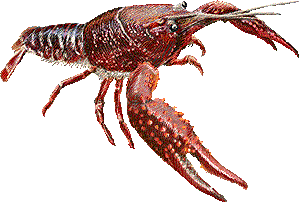 Friday, March 13, 2009 (an unlucky day for crustaceans)
As anyone from Louisiana knows, we celebrate seasons differently than anyone else. Fall is really Football Season, winter is really Gumbo Season, and spring is Crawfish Season (and summer is Snowballs in Hell Season!) We are fortunate to have many places to enjoy boiled crawfish and crawfish dishes in metro Atlanta, and many of those businesses are big LSU fans and show their support as sponsors of LSU Atlanta.
So here's your 2009 LSU Atlanta Crawfish Season Guide, carefully pawed together by Mike A. Tiger. Please patronize these folks and tell them "thanks!" for supporting your Atlanta alumni chapter.
TOUCHDOWN SPONSORS
Catering Cajun of Georgia: New Location Still Offers Live and Boiled Crawfish
Catering Cajun of Georgia has been a steady source for boiled crawfish by the pound and live crawfish by the sack for over 6 years. In fact, Catering Cajun has outgrown its original location and has found a new home at 2409 Shallowford Rd. in East Cobb.
Catering boils, BBQs and corporate and private functions is still the focus, but the new store offers refrigerated cases of smoked meats, pre-cooked Cajun specialties and seasonings to take home. And when it comes to crawfish, owner Scott Hayes has been responsible for the demise of so many of the crustaceans that there has to be a "Wanted" poster in da swamp somewhere with his mug on it. Whether you want a cooler or bag full already boiled, need a few sacks and seasoning to do it yourself, or would like a crawfish boil catered for 50 to 5,000, call Catering Cajun at 678-237-2256 or Scott Hayes 404-643-2000 (cell). New store hours TBD and crawfish pickups by appointment until doors open full time.
www.cateringcajun.net
*********
Boudreaux's Cajun Market & Café: Your East Side Live and Boiled Crawfish Connection
Boudreaux's now offers live crawfish sales in addition to a full service Cajun market and café, and dat's no joke Cher! Boiled crawfish will be featured during the season. All of their crawfish comes from Louisiana without exception and everything, from the Wed. – Fri. 11-2 Cajun Lunch Buffet to the po boys and etouffee, is 100% guaranteed. Boudreaux's sells fresh seafood year 'round and owner Paul Many sends his own truck to Cypremort Point in bayou country every week to bring back live crawfish and crabs all season. Call (770) 814-8388 to order yours in advance.
Boudreaux's is located at 3067A Main Street (Hwy. 120) in downtown Duluth just off Buford Hwy. Store hours W-Th 10–2, F-S 10– 9, closed Sun.-Tu. Catering and banquet room available.
www.boudreauxscajun.com
*********
Henry's Louisiana Grill: A True "Restaurant Destination" for Enjoying Crawfish and More!
There's no bigger crawfish lover – or LSU fan – in metro Atlanta than chef Henry Chandler, and he treats crawfish royally in his menu selections at Henry's Louisiana Grill at Main St. in Acworth.
During the season Henry's has a Boiled Crawfish Night every Wednesday starting at 5 pm with boiled bugs by the pound. But it's hard to get past the Crawfish Ooh La La, which includes spinach and roasted garlic in pasta with a spicy Cajun cream sauce that the AJC named one of the "Top 50 Dishes to Drive For." You can also get crawfish in a Po Boy, in the Seafood Fondeaux, Etouffee and in combination with shrimp in the tasty Bayou Cakes. Or slap back an appetizer of Popcorn Crawfish or as part of the Lagniappe Sampler plate. (770) 966-1515. Menu and directions at
www.chefhenrys.com
.
*********
The Peoples Restaurant/New Orleans Fine Catering Hits the Scene in Roswell!
Chef Demietriek Scott is a N'awluns transplant whose resume includes time with Ralph & Kacoo's and Commanders Palace. His New Orleans Fine Catering business has now acquired the old Roswell Kitchen on Hwy 9 just north of the town square and renamed it The Peoples Restaurant. It's still a no-frills breakfast and lunch spot open 7-3 daily but the menu now has gumbo, po boys, and creole inspired specials...and spot-on beignets. Homemade pralines too.
There will be weekend crawfish boil special events this spring, with the first one this Fri. – Sat. (March 13-14). Just call (770) 642-6400 to find out when the next boil is scheduled. Catering website
www.neworleanstpr.com
- Chef Scott caters seafood boils anywhere in the metro.
*********
Front Page News in Little Five Points: Read All About It!
Front Page News in Little Five Points has all the feel of a New Orleans tavern, including an inviting patio that transports you to the French Quarter. The menu features a variety of contemporary American tavern selections with a strong Cajun and Creole influence, so there's something for everyone. Crawfish can be found year round in the Seafood Gumbo, Crawfish & Shrimp Etouffee, and the Crawfish Salad. There will be boiled crawfish events coming soon. Check the website and our newsletter for updates. 351 Moreland Ave. (404) 475 -7777.
www.frontpageatlanta.com/
PURPLE AND GOLD SPONSORS
Cajun Meat Company: Where Yat, Mudbugs?
Chad is a West Bank boy who knows his meats and mudbugs. He has crawfish etoufee and dressing ready for take home, as well as deboned chicken with crawfish dressing and frozen La. tails year round. As always, he will boil crawfish on Fridays and Saturdays (he sometimes sells out so call to check) and he can get you live crawfish with advance reservation on Monday for each week. He'll even make crawfish boudin by request.
Call (770) 321-4300 for information. Store is at 2207 Roswell Rd. one mile east of the Marietta (Hwy 120) loop in the East Lake Shopping Center. Hours M-F 9- 6:30 Sat. 9-5.
www.cajunmeatcompany.com
.
*********
Logan Farms Honey Hams and Market Deli Announces Evening Hours and Special Menu for Crawfish Season!
Buddy and Jan Guilbeau are excited to let you know that Logan Farms (fast becoming Alpharetta's Cajun connection for lunch) is offering boiled crawfish and extending cafe hours until 9:00 pm. Tuesday thru Saturday for the crawfish season. In addition to dem hot spicy bugs, the menu also features poboys, muffalettas, and fried catfish.
Logan Farms Honey Hams and Market Deli is at 5530 Windward Pkwy in the Windward Plaza center one traffic light west of Ga. 400 exit 11. (770) 442-1723. They cater too!
http://alpharetta.loganfarms.com
*********
The New Orleans Connection: A Real Taste of the Crescent City in Smyrna
This place has all the look, feel and especially taste of a New Orleans neighborhood po boy shop. That's because the Washingtons are natives of da city and brought their traditions to the New Orleans Connection at 1669 Spring Rd. in Smyrna - at Jonquil, next to the Spring Rd. Package Store. (770) 874-3404.
Everything from the fried food to the sassy gumbo and "3 napkin" roast beef poboys reflects down home N.O. cooking…at down home prices too. Every Friday and Saturday night there's a $10.50 seafood boil (shrimp, crab, crawfish or just bugs if you like) with a free beer special on Friday night. Tuesday special is crawfish pasta and Wednesday special is etouffee. Uh huh. Full menu and directions at
www.theneworleansconnection.com
.
SPECIAL LSU CRAWFISH BOIL ANNOUNCEMENT
Tickets Now On Sale! LSU Atlanta Crawfish Boil at "Bayou Allatoona" Sat. April 25th
This year's edition of "Crawfish Craze in Red Clay Country" will be an afternoon to remember. Live band, tailgate village, lawn games, lots of food variety and order your platters of crawfish by how many pounds you want to eat! Read complete details and get your tickets now –
HERE'S the lowdown and how to order.
*********
The LSU Alumni Association Atlanta Chapter gratefully thanks the major supporters who help make our events and fundraising activities possible.
Please tell our sponsors you appreciate them! And if you have an LSU friendly favorite business not listed here, send them to our Contact Page at
http://www.lsuatlanta.com/contact
for information about how to participate.
Until next time ... GEAUX TIGAHS!
LSU Atlanta