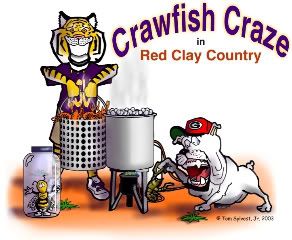 It's Baaaack! Get ready for a whole afternoon of fun on Saturday, May 11th for the 2013 edition of Crawfish Craze at "Bayou Allatoona." Please read all the event details below. As always, you need to order in advance for your required admission and any quantity of 3 lb. and 5 lb. platters of crawfish you desire.

After a successful event last year, we are bringing back the FREE admission for members! If you are a current dues paying member of LSU Atlanta you get one free adult admission (2 adults for a Family membership)! Everyone needs to pay or register for admission, so if you are not a member, this is a great time to join (do it here).

Admission includes a sumptuous Cajun Buffet provided by our great sponsors, one free raffle ticket, and live music by The Electromatics, a hot blues band featuring New Orleans sounds and sponsored by Duffy Realty of Atlanta.
Directions to Corps of Engineers Riverside Park
Take I-75 north to Red Top Mountain Road exit 285.

Turn LEFT over the interstate and go .8 mile and turn RIGHT at Red Top Mtn. Connector for short jog to US 41 NORTH.

Turn RIGHT (north) on US 41 and go approx. 1 mile to the first real road, Allatoona Dam Rd.

Turn RIGHT and it takes you right into the park after approx. one mile.

When you enter Riverside Park you will see a parking lot on each side of the road and the pavilion is on the left.
ORDER YOUR CRAWFISH PLATTERS BY 7 PM MONDAY, MAY 6TH TO GUARANTEE YOUR MUDBUG ORDER. We have to make our order Tuesday - late requests cannot be guaranteed and will be fulfilled in order of request. There is a chance some crawfish will be available on day of event, but this is not promised or assured. Thanks for your understanding!
AGAIN this year - if you are a current dues paying member of LSU Atlanta you get one free adult admission (2 adults for a Family membership). Everyone needs to pay or register for admission, so if you are not a member, this is a great time to join (do it here) You don't have to be an alum to be a member of LSU Atlanta and we are planning some great new benefits coming later this year.

LINK TO ORDER ADMISSION AND CRAWFISH HERE (Note: when you get to the Check Out page, the "Complete Order" button is all the way at the bottom below the payment information. This will take you to the actual payment page.)