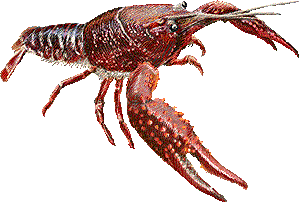 2012 LSU ATLANTA CRAWFISH GUIDE
UPDATE 6/5/12: We're hearing that the supply is lowering so if you want live or boiled crawfish you need to act before Father's Day weekend. Please refer to the info below for contacts to inquire, and remember that you need to order live bugs early in the week to ensure an order.
Crawfish Season Overview: As in the past two years, this year's crawfish crop started slow. Early supply was spotty and prices were at historic highs. Many of our sponsor partners waited to offer crawfish until things settled down. Usually prices are best after Easter passes. The good news is that now it has moderated and the pungent aroma of spicy mudbugs is again in the air. Our impeccable Looziana source Clawde A. Touffee (shown above) thinks the season will extend a couple extra weeks into June like last year.
Clawde also says the LSU Atlanta Crawfish Craze on April 21 will be perfectly timed for seeing some nice big tailed, fat-headed, eazy peelin' crustaceans coming out of the basket!
Metro Atlanta is fortunate to have many places to enjoy boiled crawfish and crawfish dishes. Read on for our listings and please patronize these sponsors and tell them "thanks!" for supporting your LSU Atlanta alumni chapter. This guide has an alphabetical listing of who has boiled and live crawfish, followed by restaurants that offer crawfish dishes on their menus. Read on...
Boiled and Live Crawfish
Tip: If you want to ensure availability and to get current price, call in advance - early in the week for same weeked is the general rule.
Boudreaux's Cajun Market
3067A Main Street (Hwy. 120), downtown Duluth (770) 861-7950
Boudreaux's Acadiana Café
2750 Buford Hwy, Duluth (770) 814-8388
www.boudreauxscajun.com
Boudreaux's is your east side connection for live and boiled crawfish since 2000. The market is still open on Friday and Saturday offering a wide array of "Certified Cajun Products" and a 100% money back guarantee on all products and services. This is where you call to reserve your order for sacks of live crawfish. All of the fresh items are transported from the source in Southwest La. every Thursday by owner and bayou state native and LSU alum Paul Many.
Early this year the restaurant operation has moved up the road about a mile to a much more spacious location focused on a quality kitchen. Boudreaux's Cafe Acadiana is not a fast food stop, every plate is made to order and features the freshest ingredients. They are running All You Can Eat Crawfish all day Friday and Saturday during crawfish season for only $25.99 (corn and potatoes extra) Of course there are other menu offerings featuring crawfish from po boys to etouffee. Check the web or call for current operating hours and live music schedule.
You will see lots of LSU and Saints decorations at the restaurant, and when football season rolls around this will be LSU Atlanta's new Gwinnett home for football view ins.
Cajun Meat Company
2207 Roswell Rd., (Hwy. 120) Marietta (770) 321-4300 www.cajunmeatcompany.com
Chad Treadaway is a West Bank boy who knows his meats and mudbugs. He has crawfish etoufee and dressing ready for take home, as well as deboned chicken with crawfish dressing and frozen La. tails year round. Cajun Meat Co. will boil crawfish on most Fridays and Saturdays (he sometimes sells out so call to check/reserve orders) and he can get you live sacks of crawfish with advance reservation on Monday for each week. He'll even make you some crawfish boudin by request. The store is one mile east of the Marietta (Hwy 120) loop in the East Lake Shopping Center. Hours M-F 9- 6:30 Sat. 9-5.
Catering Cajun of Georgia
2409 Shallowford Rd., East Cobb (678) 237-2256 www.cateringcajun.net
Catering Cajun has been Atlanta's source for catered crawfish boils, boiled bugs by the pound and live crawfish by the sack for over 8 years. Catering boils, BBQs and corporate and private functions is still the focus, and they have suspended counter sales of smaller amounts, but you can call to order live crawfish by the sack and party size orders of boiled bugs...and they are some of the best seasoned crawfish in the South.
Owner Scott Hayes has been responsible for the demise of so many of the crustaceans that there must be a "Wanted" poster in da swamp somewhere with his mug on it. They owns two large boiling rig trailers that handle most of the largest crawfish events in the region, including our annual boil. Whether it's a pound or a cooler-full already boiled, sack(s) and seasoning to do it yourself, or would like a crawfish boil catered to perfection for 50 to 5,000, call Catering Cajun at 678-237-2256 or Scott Hayes 404-643-2000 (cell).
Places that Offer Crawfish on the Menu
Adele's Authentic Cajun Experience
690 Holcomb Bridge (at Old Roswell), Roswell (770) 594-0655 www.adelescajun.com
Ruth and Marc Wegman have carved out a real gem with a New Orleans style bistro just a mile west of Ga. 400 in Roswell. Every item demonstrates that the kitchen is driven by an accomplished chef - Marc worked many years at places like Brennans, Mr. B's and Commander's Palace in N.O. They hosted our football view ins last season and many of LSU folks are now hooked. Call for reservations on weekend prime times, the word is out!
You will find crawfish etoufee as a regular item and when the bugs are in season you'll usually find crawfish preparations on the special board. Call to findn out when boiled crawfish is featured. Watch for news about their 1st anniversary party coming in early June. Rumors are floating around about a crawfish eating contest!

Atkins Park Tavern
2840 Atlanta Road, Smyrna (Market Village) * (770) 435-1887
Also in Virginia Highlands
Atkins Park Tavern in Smyrna boasts a Louisiana chefand the menu shows it with a number of bayou style entries to spice up their selections. Crawfish fritters and crawfish and tasso pasta are featured appetizers, and their Bayou Seafood Poboy gives you the crawfish option. Tough choice with a muffaletta and Mama's Louisiana Debris (sloppy roast beef on French bread) also begging to be ordered.
Mark your calendar for their annual outdoor crawfish boil taking place Saturday April 28th . More details soon. Let's get a lot of LSU colors to represent and show the locals how to eat mudbugs!
Copeland's Famous New Orleans Restaurant and Bar
2 Locations (Cumberland and Kennesaw) www.Copelandsatlanta.com
Copeland's honors the Cajun Crustacean on its menu every day of the year. Favorite meal starters include their tasty crawfish bread (alone worth the trip) and Al's Cajun popcorn. You can also get crawfish in a fried po boy, crawfish etouffee, crawfish fettucine and on a fried platter. It's just like home at Copeland's!
Front Page News
351 Moreland Ave., Little Five Points * (404) 475 -7777 www.frontpageatlanta.com
Front Page News has another location on Crescent in midtown, but most LSU fans frequent the Little Five Points location with all the feel of a New Orleans tavern, including an inviting patio that transports you to the French Quarter. The menu features a variety of contemporary American tavern selections with a strong Cajun and Creole influence. Crawfish can be found year round in the Seafood Gumbo, Etouffee, and the Crawfish Salad.
There will be boiled crawfish events at Little Five Points. Call or check web for info.